Thorn Hill Vineyards is one of California's treasured finds as a boutique winery.
Winemaker Amy Thorn, who with her husband Jack, co-owns Thorn Hill Vineyards of Northern California produces hand crafted artisan wines of exceptional quality. Add their two adult children to the staff and their award winning winery becomes a family affair.
Thorn Hill is committed to quality with a guiding principle that all their wines reflect their distinctive terroir while embodying the hallmark characteristics of each varietal. One of Thorn Hill's distinctions is their choice of single vineyard lots with carefully selected grape clones known to produce ultra-premium fruit.
No collection is complete without the rare wines of Thorn Hill Vineyards: a family affair focused on excellence.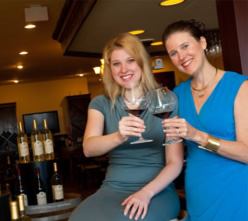 "Wine brings people together and for us it is a family affair. There is no greater joy than working with your family to create something that will last for future generations."
– Amy and Rachael Thorn