| | |
| --- | --- |
| | |
| | |
Our Story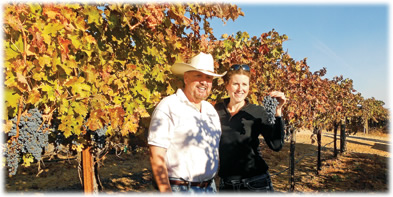 The history of Thorn Hill Vineyards can be traced back to the early passion for wine by its founders and owners, Jack and Amy Thorn.
At the turn of the millennium, with a passion and a dream, and twenty years of experience studying, exploring and enjoying the subtle nuances of fine wines, the Thorns took a leap of faith...and Thorn Hill Vineyards was born.
Winemaker, Amy Thorn and her husband, Jack, traveled 3,000 miles from their native Pennsylvania in search of the perfect terroir to establish their dream of making world class wines. "Good winemaking begins in the vineyard, nurturing the grapes to cultivate fruit imbued with the flavor and nuances of the terroir," Amy says. "The terroir—encompassing location, climate, soil, drainage, and perfectly matched clone selection—is imperative in crafting a quality wine."
The Thorns found their "vein of gold" in the grape-growing terroirs of Napa Valley's Saint Helena AVA, Sonoma County's Carneros, AVA and Lake County's Red Hill's AVA. Amy produces most of Thorn Hill's collection of fine wines from these world renowned grape-growing regions. Jack oversees the sales while Amy's natural talent and relentless pursuit of excellence has made her a respected winemaker. Their son Jonathan oversees their Red Hill's Lake County tasting room and wine ranch and their daughter Rachael, an accomplished artist, designs the labels for their artist series of wines and oversees their tasting room in Lancaster Pennsylvania.
No collection is complete without the rare wines of Thorn Hill Vineyards: a family affair focused on excellence.